Blogging: How To Stay Organised
Blogging: How To Stay Organised
Written By: Layla
Blogging - it isn't easy but here are a few simple ways on how to stay organised and keep within your schedule.
Whether you class yourself as a writer, a blogger or an influencer - one things for sure, it's not easy!
There's so many things which you need to think about and all of this falls into the category of staying organised and within your schedule - there's deadlines to meet, emails to reply to and posts to publish so here are a few tips to help you along the way....
Workspace
If you work from home, make sure you have a dedicated workspace whether it's a corner or a whole room.
This is where you'll be working from daily so make sure the space and 'vibe' is motivating and leaves you feeling energised and happy to work.
A mood-board within your workspace is considered an essential - for me, I like keeping to-do lists here along with inspirational quotes, pictures and anything I feel will inspire me for posts during the week.
Make sure your workspace has storage options too - over time, you'll get a lot of press information, documents and sheets which you'll need to keep on file so shop around for pretty accessories.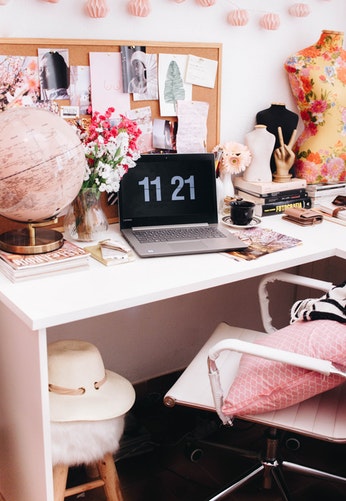 Diary
I know, I'm old-school but for me, nothing beats a good old-fashioned diary.
My diary is quite big and takes up a lot of my desk space however it's something that I look at (and write in) everyday - it's something which works for me and feel like I'm a lot more organised with it.
Weekly Diary - This is my personal choice as this allows me to write and schedule an overview for the week ahead.
I write my planned blog posts (and ideas) in here along with press events and meetings that I have to attend.
I'm not too keen on making notes on my phone or online - I just prefer writing ideas in my notebook and keeping everything schedule in my diary which is why I consider this to be an essential for every blogger!
There's some pretty options out there too - take a look at some of my favourites below!
White Board
Ok, even though I mentioned the mood-board above, I need to mention the white board too.
This is another great way for keeping things organised and scheduled as once your blog begins to grow - so do all the meetings, deadlines and events you're invited to so it's essential to stay organised.
The best part about the white-board, you can erase and re-write things as you go along.
When you know it's a week packed with meetings and events - draw up a daily chart and use magnetic symbols. Get creative and have fun - that's the main thing!
Most white-boards nowadays also come with a notice / cork-board so you could opt for half a white-board and half a notice-board if you don't have too much space in your workspace.
Once you start organising things like this, you'll feel so much better!
Desk Accessories
No matter where you work from, home or office, you need to your workspace to be inspiring and overall organised.
With an organised workspace, it allows to be much more productive so always make sure you have the right desk accessories to keep all your paperwork, brand information, press sheets and documents arranged for when you need to use them.
Being organised doesn't necessarily mean being tidy - workspaces and offices can sometimes get a little bit out of hand with paperwork and documents placed here and there but it's your 'organised mess' and with the right accessories, you'll know where everything is for when you need it.
Invest in your workspace and make use of things which will help you stay organised and within schedule - once you get the hang of things, you'll be getting through all your work and sticking to deadlines in no time!
So there are some of my tips on how to stay organised and within your work schedule - once you start getting things organised, you'll see how much more efficient and productive you'll be - and this works wonders!
All you need is a little bit of creativity and to make your workspace somewhere comfortable, suiting your needs and day-to-day life.
I love reading all your comments so let me know what you all think and if there's any other ideas you'd like to share!? 🙂
x x