How To Wear Jackets In Summer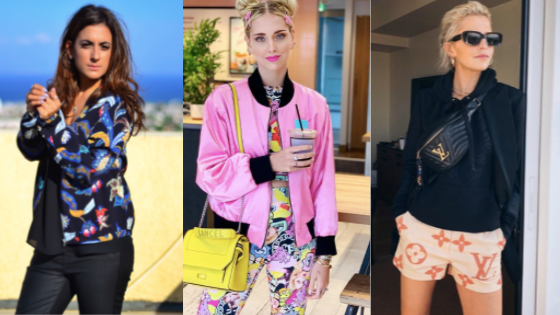 Jackets and summer, they don't really go hand-in-hand however it's a trend that's on the rise and in this post, I'm sharing some tips on how to wear jackets in the summer – and still stay cool!
There's a variety of styles and designs out there – straight line jackets, bomber jackets, blazer jackets with floral print, neon colours and statement backs.
A fashion statement in their own right, it's time to see how you can wear jackets this summer…
Neon Jackets – How To Wear Jackets In Summer
As seen on Chiara Ferragni, neon jackets works great in the summer months and you can take inspiration from her outfit. (Take a look at this neon 80's jacket)
Bold statement colours catch the eye and add a playful touch to your look, instead of trousers opt for neon or denim shorts and a cute crop.
Don't forget the hair clips and accessories!
Floral Jacket – How To Wear Jackets In Summer
Remember this outfit? It's one of my favourite / go-to jackets as I just love the design and colours.
It's quite simple, not at all over-the-top yet adds a chic element to the look.
Instead of wearing jeans like me, you can layer this over a beautiful block colour summer dress – just pick out one of the colours from the design for a totally chic look.
Or if you want to keep things ultra-comfortable, wear a cute vest and your favourite denim shorts and add some embellished sandals to the look.
Fitted Blazer Jacket – How To Wear Jackets In Summer
Carodaur – one to keep things relatively simple and chic! Take inspiration from this outfit as she's layered a fitted blazer jacket over a pair of LOGOMANIA shorts.
Remember when I mentioned that logomania would be a huge trend? 😉
If you want to add more of a fashion element / statement – add a lovely waist /bum bag to your look as seen in the photo.
Hope you all enjoy!
Layla x