Noel Athens: The Holiday Bar
Noel Athens: The Holiday Bar
It's cold outside so grab a cup of coffee, sit back and relax as Layla takes you to beautiful Greece! Visit Noel Athens: The Holiday Bar - the ultimate hot spot and must-visit cafe/bar/bistro/restaurant where the love for Christmas never ends! 
You don't want to miss this... 🙂 
Noel Athens: The Holiday Bar - Location
Noel Athens: The Holiday Bar is located in the centre of Athens and is a true hot spot. Loved by the locals and tourists - it's now become a must visit cafe / bar / bistro / restaurant. 
Visiting the city for a weekend getaway? Perfect - it's about a 10 minute walk away from Monastiraki Metro Station.
After admiring the beautiful scenery around Athens, make sure you stop by Noel Athens: The Holiday Bar.
Address -  Kolokotroni 59B, Athina, 10562
Noel Athens: The Holiday Bar
I recently visited Noel Athens: The Holiday Bar with close friends and family. I had absolutely no idea what to expect - the only thing that I was told was that it was decorated....!
From the outside, it looks like a lovely French cafe due to the red and white stripe awnings which cover the outdoor seating area however inside, it's completely different story!! 
As you can see in the image, this is the main hall area which is decorated from ceiling to floor in beautiful decorations - in person, it's so much more beautiful as you can really admire all the detail along with the beautiful fairy lights which add an ambient feel to the place. 
On the right (just behind the waiter) there's a door which leads through to a secluded seating area and small bar - here, the decoration is rather minimal but still very pretty.
On the left, there's a staircase which leads you through to a large blue, green and gold seating area - again this section is decorated from ceiling to floor along with 2 large Christmas trees however, there's much more detail which you can see below. 
Noel Athens: The Holiday Bar
As you can see in the image, the blue and gold seating area is much more grande!
Not only are there 2 large Christmas trees as you walk into the section but there's so much more detail in terms of the actual decor. 
Look at the pillars in the room, they've been decorated with old-style tile and on the ceiling part, there's a hand painted design which can be seen all around the room (more pictures below) - so beautiful! 
If you look at the picture, take a look at the wall too - yes, those are flowers on the wall! 
In the centre of the room, there's a large bar area where people can sit and enjoy a drink but I sat at a corner table - admiring the beautiful room, the decor and the surroundings. 
One thing I'd like to add, it smells beautiful in Noel Athens: The Holiday Bar - there's a delicate floral-fresh fragrance which is just lovely! 
Noel Athens: The Holiday Bar
As you all know, I absolutely love coffee and as you can see - I sat at Noel Athens: The Holiday Bar to enjoy a cappuccino!
It was a lovely cappuccino with a lovely design (perfect for Instagram) and came with a biscuit too! 🙂 
There's so much choice available as they serve a variety of hot drinks, cocktails, food and light snacks so the choice is up to you! 
On weekends, the place is much busier so if you're visiting Athens for a weekend getaway and have Noel Athens: The Holiday Bar on your list of places to visit then I would recommend popping by in the morning (or calling from your hotel, they speak English) to reserve a table for the afternoon / evening if you're going for a meal. 
If you just want to visit, admire the decor and sit for a coffee, normally there's no need to reserve a seat but as mentioned above, on weekends - pop by or call beforehand just to make sure..... you won't regret it 🙂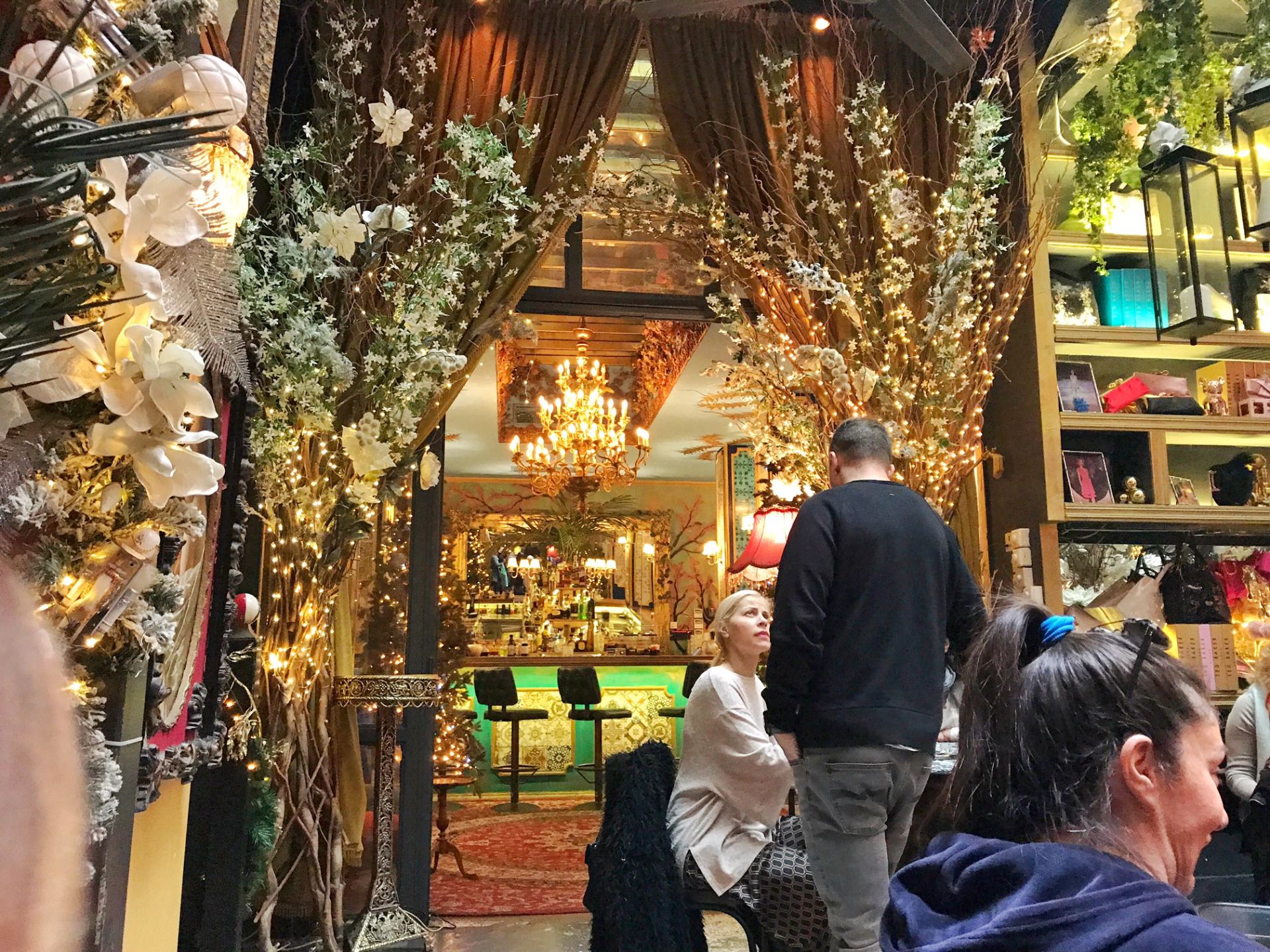 So, there we have a lovely cafe for you to check out the next time you're in Athens!
Noel Athens: The Holiday Bar really is a lovely place to visit as it's something unique and beautiful. Relax and enjoy your coffee whilst admiring the lovely decor and surroundings! 
I'd love to know what you all think so let me know in the comments below! 🙂 
xx