Nicky Clarke SuperShine Steam Hair Straightener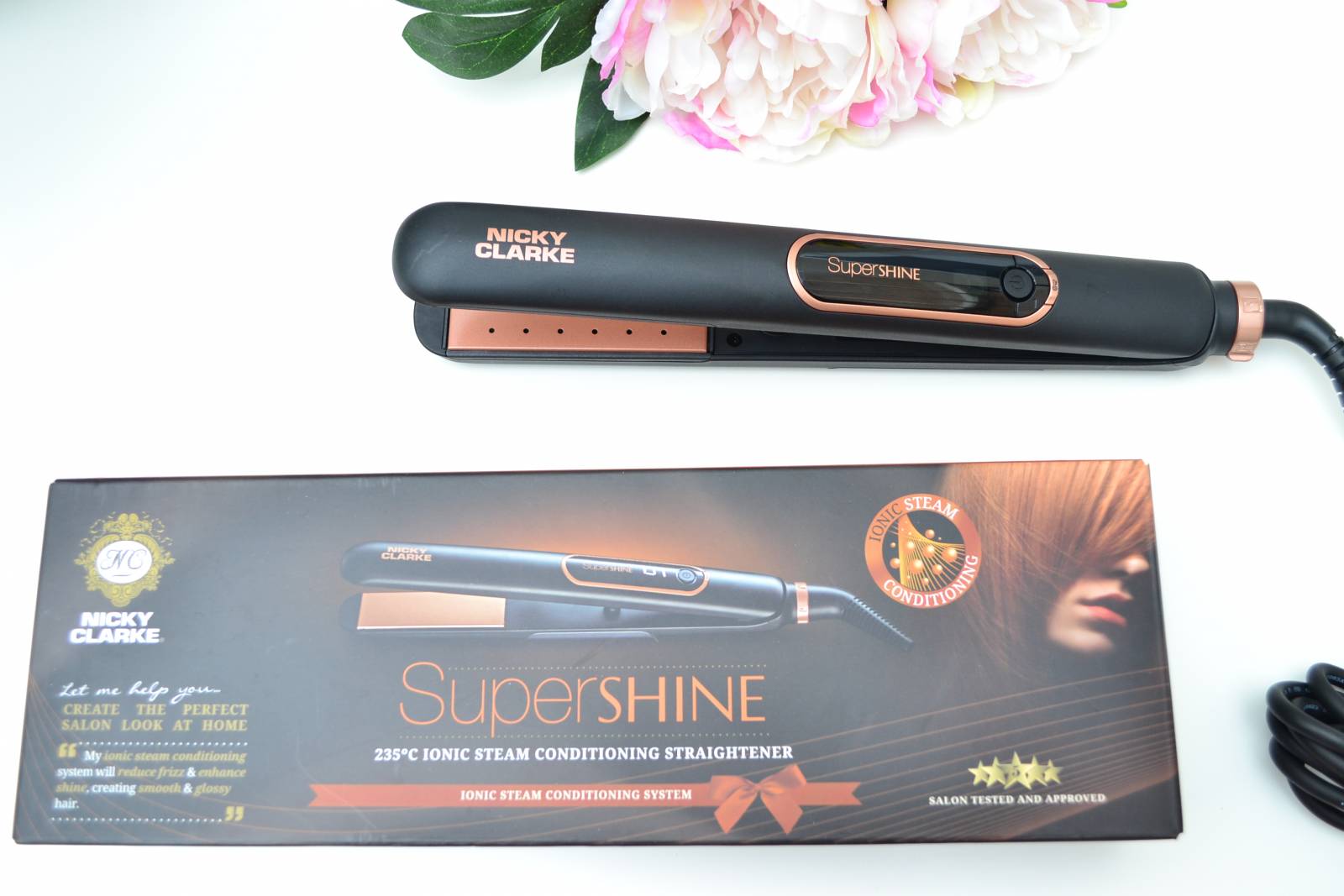 Nicky Clarke SuperShine Steam Hair Straightener
Hey everyone! Hope you're all well and having a wonderful week so far! You might remember this post where I wrote about the NEW Nicky Clarke SuperShine Range.
You all seemed to love that so here's my first review out of the 3 products.
Nicky Clarke SuperShine Steam Hair Straightener – Packaging
As you can see, this comes packaged in a lovely box – it doesn't feel like a cheap box, it's actually quite sturdy and on the heavy side which shows to me, that it's all about quality.
The box has a slight sheen to it and the colours are a lot darker but due to the sun when I was taking the photos makes it look paler – it's not, it's a glossy finish and looks lovely.
As you can see, you get all the information on the front and the back – it's little features like the 'Salon tested and Approved' which makes it stand out – you know you're getting wonderful quality when it's to do with Nicky Clarke and if it's good enough for salon use, it's good enough for us too! 🙂
Nicky Clarke SuperShine Hair Straightener – Inside The Box
Inside the box you have the straightener, wrapped in different bags…. one for the plug, one for the straightener. Everything has been taken care of.
You get a little instruction manual too which tells you about the straightener, how to use it and what to do…. again, it's little touches like this which makes a difference.
Nicky Clarke SuperShine Hair Straightener – Straightener
As you can see, the hair straightener looks lovely – it's sleek and really compact considering that you have a little compartment to add the water, it's not at all bulky which is great.
If you travel a lot, this definitely won't take up much room – just like any other straightener.
On the top, you have an LED display which lights up and shows you your selected setting and right underneath you can click the little 'lock' button to keep the setting in place and to prevent any changes whilst styling – how cool is that!? 🙂
If you scroll down, you'll be able to see the that it's a lovely rose gold colour which contrasts beautifully against the black – it's girly, but not too girly.
On the plate you can see where the steam comes out, this is part of the Ionic Conditioning technology which hydrates, nourishes and conditions your hair whilst styling giving you glossy, shiny locks.
Nicky Clarke SuperShine Hair Straightener – How To Use
It's super easy to use and setup! All you need to do is remove all the packaging and you're good to go.
Fill the water compartment with water and attach it to it's place, then plug in and switch on.
Select your heat setting, lock the setting and get styling as normal!
Or you can check out the tutorial below 🙂
Nicky Clarke SuperShine Hair Straightener – Overall 
Overall, this is a wonderful product!
I love that it hydrates, smoothes and conditions your hair whilst styling – you can really tell the difference as hair does feel smooth, soft and looks super-glossy.
If you're someone who styles hair a lot – this is a great option as it will help to keep your hair looking glossy and lovely.
Nicky Clarke SuperShine Hair Straightener – Purchase 
You can purchase this from Argos – either online or pop in store to purchase!
You can see more by clicking Nicky Clarke SuperShine Hair Straightener
Priced at £74.99 – it's not cheap but it's not super expensive either and for the quality and how lovely your hair feels after use…. what's not to love!?
Scroll to the bottom for more details about the GIVEAWAY 🙂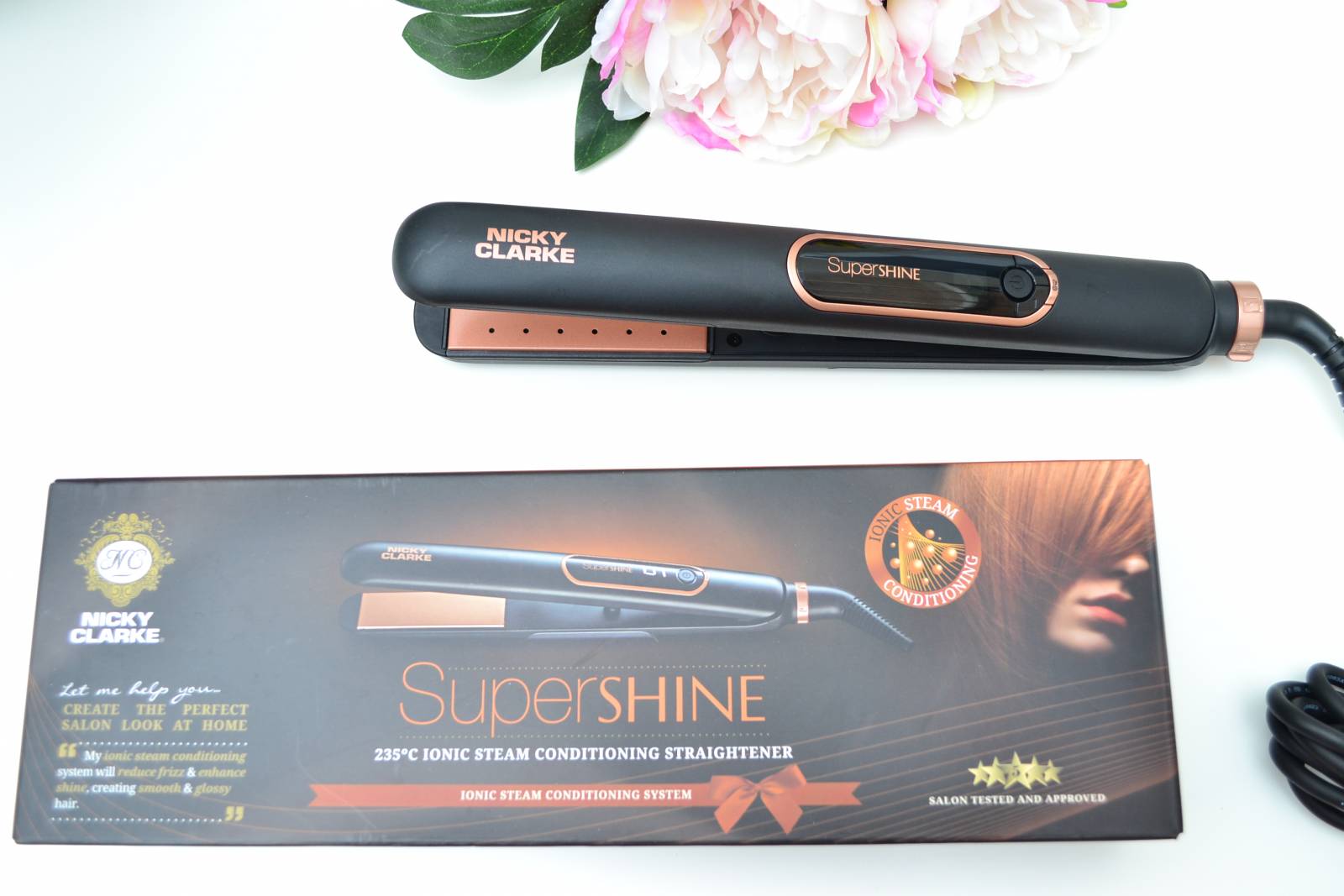 Let me know what you all think – do you love the look and sound of this range??
xx
GIVEAWAY – You can WIN all 3 items from the range, head over to my Facebook Page by clicking HERE
All you need to do is LIKE my page & Share the Post 🙂