Fundamental – The Kipling Backpack You Need
The Kipling Backpack You Need
Written By: Layla
Brand Feature: Kipling
Happy New Year!!! On Sprinkles of Style, we're welcoming the year of 2019 with a brand new outfit post!
Here, you can check out the lovely Kipling Backpack - featuring a unique design, textured print and plenty of space, it's the perfect addition for everyone's wardrobe.
Fundamental - The Kipling Backpack You Need
So, a very Happy New Year to each and every one of you lovely readers! Where has the time gone!?
As you can see, in this post, I'm back and writing about a lovely Kipling Backpack which was sent to me recently and something which I've been using lately for travels, as well as taking my essentials with me to different meetings.
If you've been reading and following this blog, or my social media, you'll know that I really like Kipling and their items as there's something to suit everyone - no matter your fashion / style preference. From bold and bright designs to classy and chic prints.
If we think back to last year, you may remember that I featured a Kipling Suitcase on here - perfect for short travels as it's a cabin-sized suitcase, compact and lightweight.
Not forgetting the beautiful Kipling Rose Gold Backpack - this is a great option for Spring / Summer due to it's beautiful colour and size. It's small yet chic for every fashionista!
Now, I'm featuring this Fundamental Drawstring Backpack from Kipling - another lovely backpack which is a lot bigger than the previous one allowing you to carry your essentials with you whilst looking elegant. Perfect for fashion-savvy people too!
Fundamental Backpack By Kipling - Size
As I briefly mentioned above, the size of the Fundamental Backpack is a lot bigger than the Rose Gold Backpack which I have.
It's the perfect option for your day-to-day bag as you can take everything you need for your meetings and more often than not, this has been enough for me without having to carry a briefcase bag too!
Even in the picture here on the left, the backpack may still look small but I had 2 document folders inside, along with my purse, my Canon G7X Mark II and some press information but it doesn't look bulky at all!
On the front of the backpack, there's 2 zip compartments where you can store some essentials like chewing gum, hand sanitiser, lipstick etc.
Turn the bag around and you'll see that there's another zip compartment which is large (and I mean large) in here, you can store more paperwork or gadgets you need with you during the day.
In the bag, there isn't a separate compartment - it's just a large space for all your belongings but there's a smaller zip compartment where you can keep things such as your keys, mints etc...
Fundamental Backpack By Kipling - Texture & Design
Take a look at this picture on the right, you can see just how unique the Fundamental Backpack by Kipling really is.... it's lovely!
The texture and design has been thought through by Kipling and carefully crafted, being made with long-lasting material and perfect to use on a day-to-day basis without worrying about any scuffs of marks.
I've been using this for my short travels and for attending different events and meetings and so far, the backpack still looks brand new.
The photos have been taken a few weeks me using this almost on a daily basis and as you can see - it still looks brand new!
Inside, the backpack is lined with a black and white stripe design - you can just see it peeking through the top of the bag.
The drawstrings which you can see - they close the bag with an additional pull-button which "locks" the strings and keeps the bag closed - not forgetting the fluffy cover to conceal.
At the bottom of the drawstrings, you also have two fluffy keyring-like pom poms as an extra design feature matching the cover of the bag too.
If you look closely, you'll notice that the zips aren't silver - they're a dark toned silver / black which shine beautifully in the light and it's little design touches like this which make Kipling stand out.
The Kipling Backpack You Need
Overall, I really like this backpack - it's a wonderful addition to everyone's wardrobe as it's a timeless piece which looks great with any outfit and when styled in the right way - for any occasion too!
The Fundamental Backpack from Kipling is especially great for those of you who are always on the go as you have so much room to take everything you need with you for the day - whether it's folders, documents, press-information, camera's or equipment - it's a bag which works for everyone!
What I really like about Kipling is that they bring their customers high-quality pieces which are crafted from long-lasting materials so you don't need to worry if you're using this on a day-to-day basis.
As mentioned, I've been using the bag for a few weeks on an almost daily basis and you can see that it still looks brand new!
Kipling are a brand that take everything into consideration - not only are Kipling items high-quality but they look wonderful due to their beautiful designs, styles and materials - I mean, even the inside of the backpack is pretty!
If you're looking for a new bag or backpack for 2019 - make sure you check out this backpack or the Kipling website where you'll find something for you and your needs!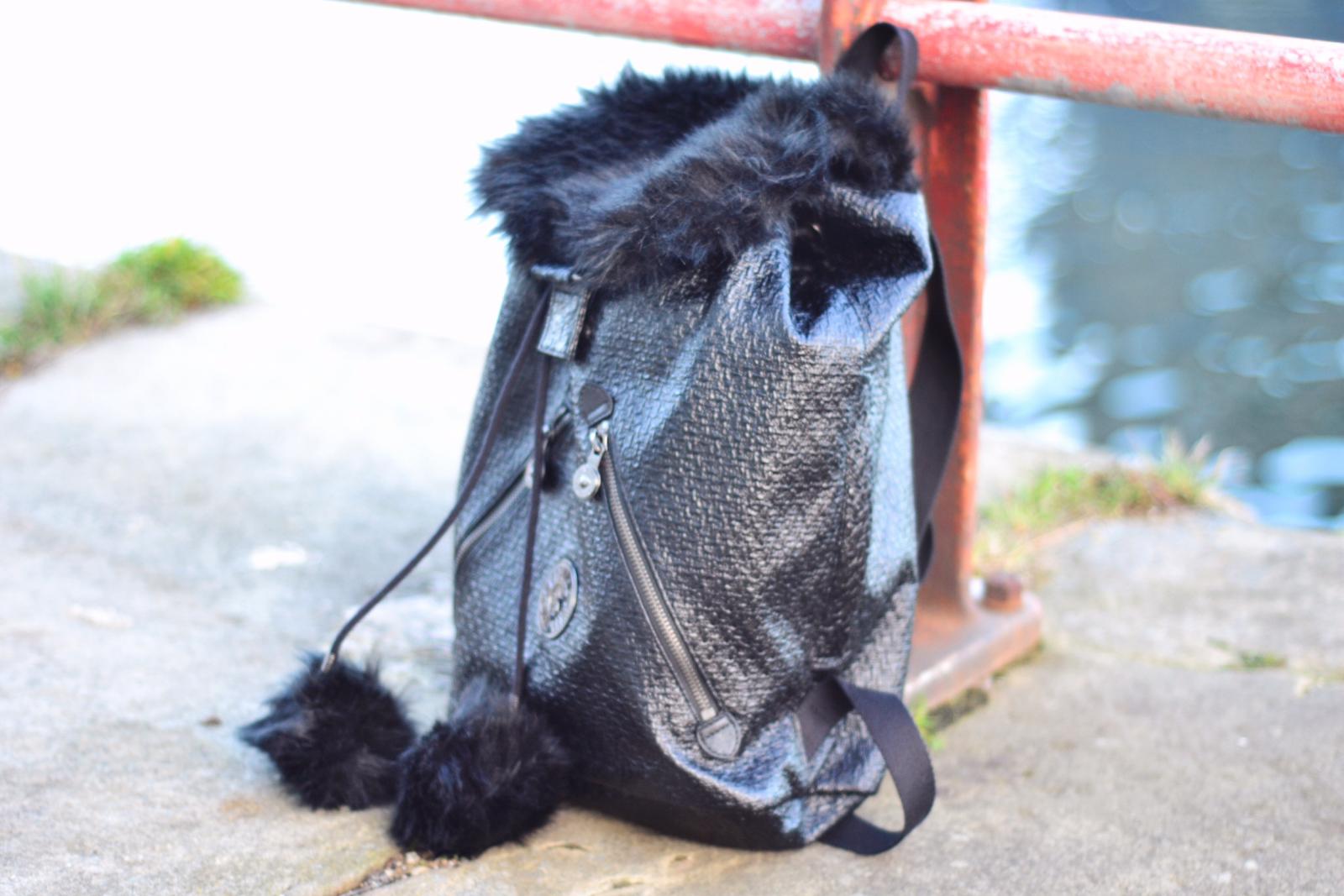 NEW VLOG
Have you seen my new Vlog? If not, you can check it out here - part of my weekly Vlog series where I take you to different blogger events, meetings and all the fun things I get up to.
In this video, you'll be able to travel with me AND catch a glimpse of the Kipling Backpack featured in this post!
There we have the first post of 2019 and I think you're all going to love this backpack - I mean, just look at how stylish it looks! It's beautiful and it's a great addition for everyone's wardrobe! 🙂
Wishing you all a wonderful 2019 and can't wait to show you some of the exciting things which are coming soon!
xx