Maxfactor Excess Volume Mascara
[slide id="Slider_id"] [images src="https://sprinklesofstyle.co.uk/wp-content/uploads/2014/01/DSC03878.jpg" title="image title" caption="Maxfactor Excess Volume Mascara" url="url"][images src="https://sprinklesofstyle.co.uk/wp-content/uploads/2014/01/DSC03879.jpg" title="" caption="Extreme Volume" url="url"][images src="https://sprinklesofstyle.co.uk/wp-content/uploads/2014/01/DSC03880.jpg" title="image title" caption="Dark Lacquer" url="url"][images src="https://sprinklesofstyle.co.uk/wp-content/uploads/2014/01/DSC03883.jpg" title="image title" caption="Excess Volume" url="url"][images src="https://sprinklesofstyle.co.uk/wp-content/uploads/2014/01/DSC03886.jpg" title="image title" caption="Wand 1 Extreme Volume" url="url"][images src="https://sprinklesofstyle.co.uk/wp-content/uploads/2014/01/DSC03887.jpg" title="image title" caption="Excess Volume" url="url"][images src="https://sprinklesofstyle.co.uk/wp-content/uploads/2014/01/DSC03889.jpg" title="image title" caption="Wand 2 Dark Lacquer" url="url"] [/slide]
Maxfactor Excess Volume Mascara*

£9.99
Ta-Dah!
It's here…the new mascara from Maxfactor has arrived and in this beauty review I'll be sharing all the details and my thoughts on this mascara!
Maxfactor Excess Volume Mascara Wand
The wand.
For those of you who know me, you'll know that I'm one of the fussiest people when it comes to mascara, if it's not for me then I realise from the very coat!
The wand plays a major part in how it'll get applied and of course how it'll look on your lashes so I always look at the wand in detail.
The Maxfactor Excess Volume Mascara doesn't have one wand…it has two and although many of you don't like double-ended beauty products please hear me out! 🙂
1 Extreme Volume – This wand is on the left side of the mascara, as you can see in the pictures (scroll across) it's got quite fine bristles and is extremely firm so it acts as a brush and combs through your lashes leaving no room for universally hated CLUMPS!
Clumps be GONE!
2 Dark Lacquer – OK so this is the other wand on the other side, the right side, before using it I actually thought it the 'lacquer' would be like a paint going on my lashes however it's not. The wand on this side is more mascara like and is again quite firm however it doesn't comb through the lashes, it layers on mascara evenly and gives you a darker look.
Maxfactor Volume Express Packaging
I absolutely LOVE the packaging of this product….it's simple but the flashes of silver everywhere looks fabulous and I think it compliments the product perfectly!
See Also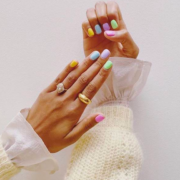 Overall thoughts
I think this mascara is wonderful. I'm so fussy with mascara's in general and this really does work and makes my lashes look longer and darker (when both sides are used) so I really do recommend it.
If you want a subtle, everyday look then you can use just the Extreme Volume side however if you want thicker, darker lashes then you can easily use both sides together and it'll look wonderful.
You can buy this mascara from Boots for £9.99 and you can click MAXFACTOR MASCARA to go through to the product page.
If you have tried this let me know what you think!
Layla xx