[slide id="Slider_id"] [images src="https://sprinklesofstyle.co.uk/wp-content/uploads/2014/03/DSC04930.jpg" title="image title" caption="Max Factor Colour Elixir Gloss Nude Pomade" url="url"][images src="https://sprinklesofstyle.co.uk/wp-content/uploads/2014/03/DSC04941.jpg" title="image title" caption="Max Factor Colour Elixir Gloss Nude Pomade" url="url"][images src="https://sprinklesofstyle.co.uk/wp-content/uploads/2014/03/DSC04932.jpg" title="image title" caption="Max Factor Colour Elixir Gloss Nude Pomade" url="url"][images src="https://sprinklesofstyle.co.uk/wp-content/uploads/2014/03/DSC04947.jpg" title="image title" caption="Max Factor Colour Elixir Gloss Nude Pomade" url="url"][images src="https://sprinklesofstyle.co.uk/wp-content/uploads/2014/03/DSC04953.jpg" title="image title" caption="Max Factor Colour Elixir Gloss Nude Pomade – Glowing Peach" url="url"][images src="https://sprinklesofstyle.co.uk/wp-content/uploads/2014/03/DSC04958.jpg" title="image title" caption="Max Factor Colour Elixir Gloss Nude Pomade – Radiant Rose" url="url"][images src="https://sprinklesofstyle.co.uk/wp-content/uploads/2014/03/DSC04961.jpg" title="image title" caption="Max Factor Colour Elixir Gloss Nude Pomade – Lustrous Sand" url="url"][images src="https://sprinklesofstyle.co.uk/wp-content/uploads/2014/03/DSC04963.jpg" title="image title" caption="Max Factor Colour Elixir Gloss Nude Pomade – Pristine Nude" url="url"][images src="https://sprinklesofstyle.co.uk/wp-content/uploads/2014/03/DSC04966.jpg" title="image title" caption="Max Factor Colour Elixir Gloss Nude Pomade – Swatches" url="url"][images src="https://sprinklesofstyle.co.uk/wp-content/uploads/2014/03/DSC04974.jpg" title="image title" caption="Max Factor Colour Elixir Gloss Nude Pomade – Swatches Closeup" url="url"] [/slide]
Max Factor Colour Elixir Gloss Nude Pomade Limited Edition *
£7.99
The sunshine is beaming through my office window and it's lovely but before I go out and grab a coffee and do some window shopping I thought I'd write up a detailed review about the new Max Factor Colour Elixir Gloss Nude Pomade Collection.
A lot of you who follow my blog will have seen the pre-launch post but just in case you haven't you can view it HERE.
Carline Barnes is a wonderful Max Factor make-up artist, many of you may have seen her sharing tips and advice on adverts, has launched her first ever collection for Max Factor and it's the 'Nude Pomade Collection'
About the collection
The 'Lip Pomade' was the first ever gloss used in the 1920's on Hollywood actresses and created by Mr Max Factor himself. The collection pays homage to the 'Lip Pomade' but with a modern, nude twist.
Max Factor Colour Elixir Gloss Nude Pomade Colours
I cannot begin to describe how beautiful the colours are, in picture they look great but in person they look incredible.
Lustrous Sand – This gloss compliments warm skin toners and will go perfectly with a tan. Wear with a soft brow, rose gold on eyes and Lustrous Sand Gloss will create caramelised Lips.
Radiant Rose – This shade conveys an expensive lip – with accents of champagne it's the most subtle gloss within the collection. It will have an incredible lip shaping appearance with it's gold flecks and will suit all skin tones. 
Pristine Nude – This is an ultimate nude lip colour and it should be part of every woman's makeup bag. Suiting all skin tones, it's a makeup staple. it will perk up your look and create a natural, healthy look when you're feeling lacklustre.
Glowing Peach – A supreme summer shade – peach continues to be a trend for SS14. The perfect holiday gloss it will enhance and flatter suntans and look really fresh. Day or evening, it's a staple for SS14 cosmetic wardrobe!
I love each shade, my favourite out of all has to be 'Radiant Rose' I feel this suits me the best as I tend to create subtle smoky eyes during the day and the champagne undertone brings everything together perfectly.
These nude shades compliment a tan beautifully so these will be perfect for 'summer makeup' too!
Max Factor Colour Elixir Gloss Nude Pomade Texture
The texture is unlike any other lip gloss on the market, they do NOT feel like lip glosses, they feel more like lip balms!
See Also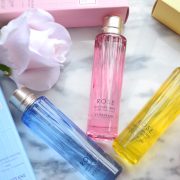 The Max Factor Colour Elixir Gloss applies like a butter, it's smooth, lightweight and not at all sticky which is one of the major faults with lip glosses and it makes a really nice change to finally have a lip gloss like this.
Purchase Max Factor Colour Elixir Gloss
You can click MAX FACTOR to go to the product detail page on the Max Factor website and you can also click COLOUR ELIXIR where you'll be taken to the Boots product pages!
Priced at just £7.99 I think it's quite cheap as a little amount goes a long way so they should last a while! 🙂
I always love hearing your thoughts so let me know what you think about the collection!
Layla xx