Makeup Revolution Ultra Base Corrector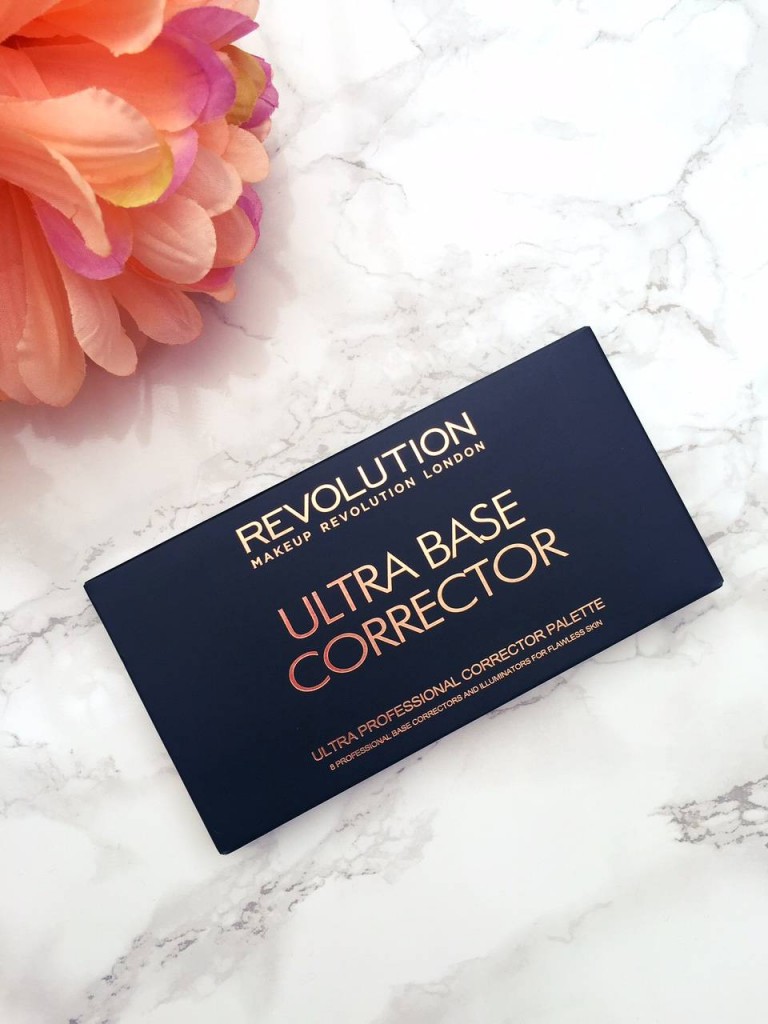 Makeup Revolution Ultra Base Corrector Review –  Since last year Makeup Revolution has grown and become one of the beauty bloggers favourite brand. With their affordable products, great quality and such a variety on palettes and colours – what's not to love!?
In this post I'm writing about one of their newest launches, it's the Makeup Revolution Ultra Base Corrector Palette!
Makeup Revolution Ultra Base Corrector Palette – Packaging
As you can see in the pictures, it's your standard Makeup Revolution packaging – sleek, simple and lovely.
I'm really liking that most of their palettes now come armed with a mirror – it's so handy and perfect if you do your make-up on the go too! I mean, who wants a palette without a mirror!?
Makeup Revolution Ultra Base Corrector Palette – Colours
As you can see, there's a variety of colours in this palette but base correcting palettes tend to be VERY overwhelming for people…..
Not everyone knows about make-up products and it's times like this when I feel like a little guide or information sheet could have been provided in the kit.
What Colours to Use? 
Ok, so obviously I'm not telling you to go crazy and use all the colours but out of the 8 correctors in this kit you'll probably only use half of them – if that!
I tend to recommend using colour correcting kits in the evening when your make-up is heavier as you want your skin to look flawless BUT if you do suffer with certain skin conditions then by all means use it (lightly) during the day too.
Colour Correcting colours are used BEFORE applying your concealer to cancel out any unwanted skin tones and redness.
Note – This kit contains pastel shades, if you suffer with harsh redness or tones you'll want vivid correcting shades so this palette won't be for you….
– Green Concealer
This is probably the most-known (and used) colour when it comes to colour correcting kits.
If you suffer with redness on your skin then this is the colour for you as it will help to cancel out and conceal those red/pink tones creating an even base for your concealer.
– Purple Concealer 
Purple concealer tends to be used on people who suffer with a dull, pasty (yellow) complexion.
By using a purple concealer means that it'll cancel out any yellow and will also add a beautiful glow to your face.
– Pink / Peach Concealer
Pink / Peach Concealer is brilliant for covering dark under eye circles as it'll help to cancel out any blue, purple and green hues.
Not only does it cancel out these tones but it'll help to brighten the whole area and make you look alert and awake – perfect if you don't sleep well!
– Yellow Concealer 
Great for covering purple tones (bruises) and also great to use on your skin to brighten but also on your eyes as a primer (before eyeshadow) to brighten the area and correct the skin tone.
– Orange Concealer
This tends to be used on people with darker skin to hide dark circles and any little spots – lighter skin can also use orange concealer for contouring and blending with highlighter for a glow!
– Highlighting Concealer (Also Known as White Concealer) 
So, white concealer normally comes with a shimmer to it meaning it's actually just a concealer! Use it delicately and ONLY in places that you want to brighten and highlight – arch of the brow, along the nose, cheekbone and cupids bow.
Unless you're contouring – then you can go a little crazy with this….
Makeup Revolution Ultra Base Corrector Palette – Lasting Power
As with all makeup products I recommend applying a hydrating moisturiser and primer before applying your make-up.
When it comes to Makeup Revolution I find that this really does help with how well your makeup will last during the day especially when it comes to your creamy concealers and correcting palettes.
You'll notice it looks very natural and of course lasts all day without any problems too – a little dot of powder here and there to control any excess shine is probably all you'll need!
Makeup Revolution Ultra Base Corrector Palette – Purchase
You can purchase most of the Makeup Revolution products from Superdrug and I've listed links below.
Click: Makeup Revolution Ultra Base Corrector Palette – £6.00
Click HERE for all of Makeup Revolution Products
Makeup Revolution Ultra Base Corrector Palette – Swatches
Scroll down to see a swatch of all the colours from this correcting palette!
You all know that I love reading your comments so let me know what you think of the Makeup Revolution Colour Correcting Palette – have you used it, seen it or want it?
Let me know!
xxxx