[slide id="Slider_id"] [images src="https://sprinklesofstyle.co.uk/wp-content/uploads/2014/02/ghdpastelcollection.jpg" title="image title" caption="GHD Pastel Collection" url="url"] [/slide]
GHD Pastel Collection – Limited Edition
GHD have taken a cue from the catwalk and launched their prettiest collection to date – the pastel collection.
Pastels have been and continue to be a huge trend, everyone seems to be lovng them and I think we'll definitely be seeing a lot more over spring/summer.
The GHD Pastel Collection is extremely elegant, chic, pretty and you can pick from 3 shades which are equally pretty.
Periwinkle – A beautiful pastel blue which has a chic feel to it.
Jade – This reminds me of 'mint candy apple' gorgeous and will probably be the most popular.
Lavender – A lovely warm pastel purple which I think will look gorgeous on your vanity table.
See Also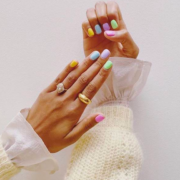 These can be purchased online by clicking GHD PASTEL COLLECTION where you'll be re-directed to the GHD website.
Priced at £110 I think it's a really good price seeing as they're limited edition and it's a tool you'll reach for time and time again.
Layla xx