Elizabeth Arden Red Door 25 Eau De Parfum
Harrods Valentines EXCLUSIVE – Elizabeth Arden Red Door 25 Eau De Parfum
Valentines Day is just around the corner and Elizabeth Arden have released a 25th anniversary edition of their iconic Red Door Fragrance which you can see pictured above.
It's available for a limited time only and in one of the worlds most iconic stores – Harrods
Elizabeth Arden Red Door 25 Eau De Parfum – Packaging
Just look at the beautiful packaging, it screams sophistication, elegance and of course – glamour!
The vibrant, rich red shade compliments the crisp gold beautifully – it's limited edition making this a truly special Valentines Gift!
The red box or outer packaging lifts off the gold to reveal an equally beautiful bottle, everything has been thought through right down to the finest detail and once you're done with the perfume the box can be used as a keepsake box! 🙂
I really like the detail that you can see on the actual perfume bottle, the cap on the perfume is lined with gold as I've tried to show in the pictures above and on the back of the bottle you can see the beautiful design used on many Elizabeth Arden products – it's very, very luxurious and I'm sure anyone who purchases this or receives it as a gift will NOT be disappointed as it looks beautiful!
Elizabeth Arden Red Door 25 Eau De Parfum – Scent
Sensuous, bold and feminine – A beautiful blend of Blackcurrant Nectar, Violet Leaf Absolute, Rose Water and Golden Honey all wrapped in Musk and Patchouli resulting in a unique and unexpected floral bouquet that is truly sophisticated yet has a modern edge.
Top Notes: Blackcurrant Nectar, Violet Leaf Absolute, Natural Rose Water
Middle Notes: Turkish Rose Absolute LMR, Rose Absolute LMR, Indian Jasmine Sambac Absolute LMR
Base Notes: Patchouli Heart LMR, Honey Sensual Musk
This is quite a heavy scent which I will probably be wearing more in the evenings however I also think it's perfect for people on the go as you'll apply in the morning and this will last you all day no problem!
Elizabeth Arden Red Door 25 Eau De Parfum – Purchase
This can be purchased EXCLUSIVELY from Harrods for £78 and whilst it's not the cheapest thing you do have to remember that this is a limited edition product and the quality/scent is beautiful.
See Also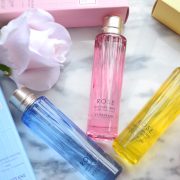 You'll actually have a luxury product in your home!
Elizabeth Arden Red Door 25 Eau De Parfum – Click HERE 
This is available until the 14th February 2015
You all know that I love hearing from you so let me know what you think of this beautiful, limited edition perfume – doesn't it look gorgeous???