Beauty – Superdrug BB Eye Cream *
I love BB creams, I feel they're a lovely option when going for a light "daytime makeup" look as they give skin a dewy glow but I've never tried a "BB Cream" for the eyes up until I was kindly sent the Superdrug BB Eye Cream.
An eye cream, primer and concealer all in one! Lets see how I got on!
Superdrug BB Eye Cream – Packaging
I love products with a simplistic approach and I feel Superdrug has done just that, it comes packaged in a lovely box with delicate colours and a touch of pink – for fun! 🙂
Superdrug BB Eye Cream – Applicator
I'm so used to seeing roller-ball applicators when it comes to eye products however as you can see in the pictures above it's a brush applicator – just like a concealer brush.
I normally really dislike brush applicators as I don't find them soft at all however this is really lovely and soft, it doesn't drag the skin and it smoothes the product around the eye area beautifully.
Superdrug BB Eye Cream – Texture
This is the BEST part, the texture of this BB eye cream is really lovely, silky, lightweight and it glides on like butter!
I apply using the applicator, under and around the eye area and then using my ring finger dab it into the skin until blended.
Superdrug BB Eye Cream – Overall
I really like this product and definitely recommend it, I haven't tried any other BB Eye Creams but if I'm comparing it to a concealer then I would say Superdrug have a "wonder product" right here!
See Also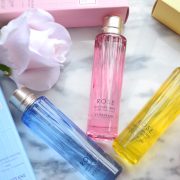 This glides on smoothly, brightens the under eye area and conceals imperfections – yes this can also be used as a concealer – thumbs up and a big WELL DONE to Superdrug!
Superdrug BB Eye Cream – Purchase
You can purchase this in-store for £6.99 which is a bargain, a little goes a long way and you'll love how it instantly brightens the under eye.
Let me know if you've tried it and what you think!
Layla xx