L'occitane Immortelle Overnight Reset Serum Review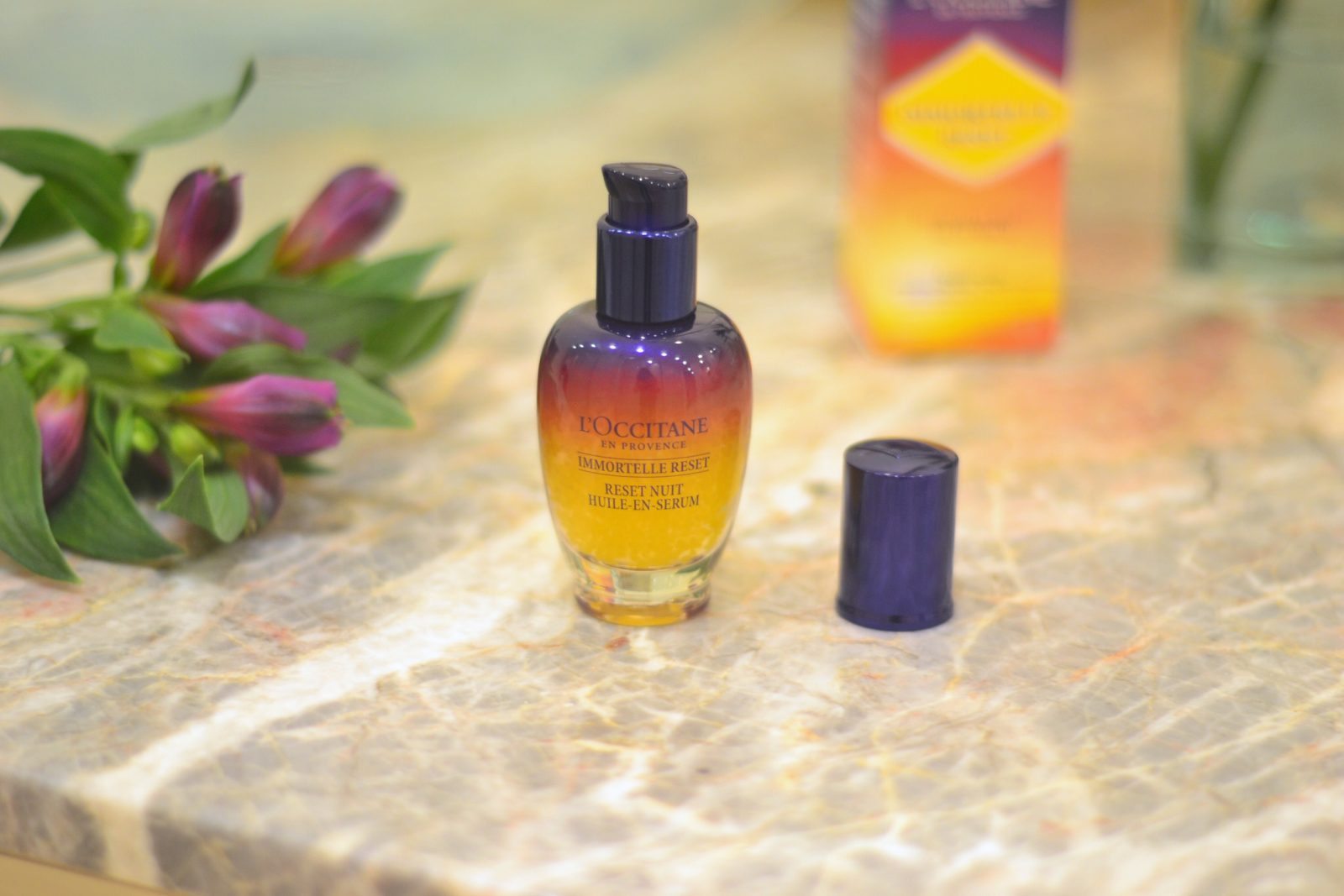 L'Occitane is a much-loved brand, thanks to their nourishing products and specially developed formulations. In this post, you're going to find out all about their HERO serum – the L'Occitane Imortelle Overnight Reset Serum.
L'occitane Overnight Reset Serum: About
The Loccitane overnight reset serum has been specially formulated to work on your skin, well, overnight!
Developed to suit and benefit all skin types, this can be your only go-to product however it'll work just as well when combined with any of your other favourite beauty products too.
There's a reason that this is the brands' HERO serum. It's a product that works – quickly!
L'occitane Overnight Reset Serum: Key Ingredients
Below, I'll be going through the actual texture of the product as it's so unique (and lovely) but here, I wanted to write about a few key ingredients that are infused in the overnight reset serum.
Immortelle Oil Extract – This is L'Occitane's iconic and powerful antioxidant, hence the name, and it works to stimulate your skin and increases collagen synthesis for firmer, plump, smoother skin.
Marojam – A soothing ingredient that helps to activate gene expression functions that have become dormant due to the natural ageing process.
Acmella Oleacera – Your natural alternative to botox! That's right, this relaxes muscle tension and helps to smooth the appearance of fine lines and expression lines.
L'occitane Overnight Reset Serum: Texture
For some reason, I always love writing about a beauty product and the texture – especially when it's a serum like this!
As a lot of you know, I personally like lightweight products. I don't like heavy or sticky beauty products and this is why I think I really enjoy using this serum.
The Loccitane Overnight Reset Serum is a lightweight water-gel formulation and as you'll be able to see in the photos, there's tiny golden bubbles.
Once you apply and massage this onto your skin, the golden bubbles release the ingredient called "Immortelle Oil Extract".
This is a powerful antioxidant which stimulates skin microcirculation and increases collagen synthesis whilst brightening, plumping and smoothing your skin.
L'occitane Overnight Reset Serum: How To Use
For some reason, I keep seeing people recommending that this product should be used both in the morning and evening however I wouldn't suggest it.
What I would suggest is using the Loccitane Overnight Reset Serum in the evening only. This way, you allow the ingredients to work overnight as your skin 'recharges' itself too.
Here's my guide on how to use.
Wash skin with your favourite cleanser.
If you're anything like me, I love using my deep-cleansing products in the evening and opt for more delicate / refreshing products in the morning.
Apply the L'Occitane Overnight Reset Serum.
Apply Night Cream to 'lock in' all the wonderful ingredients.
This is optional – you can use the serum alone or for extra hydration, follow-up with a nourishing night cream to moisturise and lock in the serum.
L'occitane Overnight Reset Serum: Shop
Here, you can click the link below where you'll be able to shop the HERO serum from L'Occitane's website.
SHOP – L'Occitane Overnight Reset Serum 30ml – £49
L'occitane Overnight Reset Serum: Overall
When I think about recommending products, I take everything into consideration.
I know that for many people, £49 is too much to spend on just a serum but is this just a serum?
No, it's not. This is more than a serum. This is your toner, lotion, moisturiser and serum rolled into one.
It's a product that has been specially developed to work on and benefit all skin types. A wonderful blend of ingredients that actually work overnight.
After one use, you'll notice that your skin looks healthier. Maybe those fine lines won't have disappeared overnight but you will see that there's an underlying glow – a moisture boost!
What I love about this product is that not only does it suit all skin types – it's something which can be used by all ages too.
If you're looking to add a new product to your beauty collection, make it this.
I'd love to know what you think about L'Occitane and their products. Do you have a favourite product from the brand?
Have you tried this?
Let me know!
Layla x