How Lighting Can Change A Room
Home – it's your place of relaxation and in this post, we're taking a look to see how lighting can change a room – instantly!
Did you know that lighting is one of the important factors in creating a relaxing and cosy room?
Even if you have a small budget, you can easily change the way your home feels by purchasing new lighting and accessories.
Sometimes, you can also find beautiful lighting or table lamps which double-up as an accessory or decor item.
This is another easy way of updating a room – move items around your home and instantly transform a space.
Crystal Cylinder Touch Lamps – How Lighting Can Change A Room
Pair of Crystal Cylinder Touch Table Lamps – £35
Take a look at this beauty – it's a gorgeous table touch lamp from Iconic Lights and what I love about this is the warmth and cosiness!
As you can see, this is such a beautiful lamp – stunning in fact. The crystals are all beautiful and capture the light in such a gorgeous way.
In the evening is when you see it's real beauty – I have two of these. One on either side of the windowsill, just peeking through behind the curtain.
This way, there's a cosy glow created which in turn create a beautiful, relaxing feeling in the room.
I also love the fact it's a touch lamp. In the picture it's on the middle setting as there's one slightly dimmer which creates an ultra-cosy glow!
(There's a brighter setting – I don't use this setting too much but it's good to have.)
Take a look at a few more photos below – including close-up details to see how lovely the crystals are!
I mean, how beautiful are these lamps? I love them and think they create such a cosy feel to the room.
On the Iconic Lights website, you'll also be able to see a silver version, a rose gold version and a gold version too – you're welcome 😉
You've covered crystal table lamps but what about crystal chandeliers? Let's take a look at how these can transform a space.
Crystal Chandelier – How Lighting Can Change A Room
3 Tier Droplet Chandelier – £15 (Check out this version too)
Such a bargain! I love this three-tier chandelier and look at how luxurious this looks – I mean, look at how the crystals capture the light!
Further below, you'll be able to see more detail including how it looks with the lighting on.
See Also
The thing that I love about chandeliers is the fact that they're affordable yet add a touch of glamour to any room.
With the correct lighting, you can instantly transform the whole vibe of the space – from dull and un-motivating to cosy and luxurious.
Have a little look through more photos below….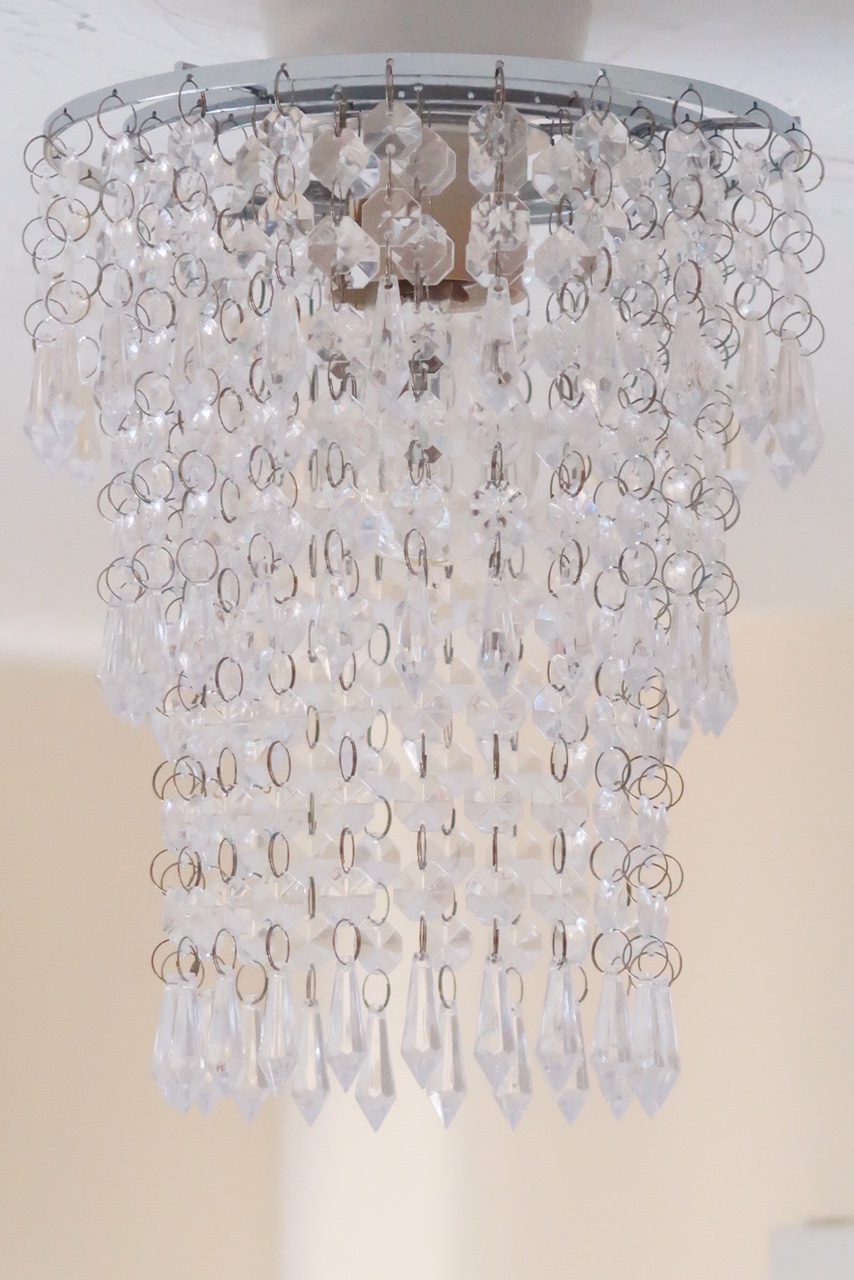 It really is amazing when you think about lighting and how it can change up not only a room but also our moods.
That's why, it's worth investing in lighting and the best part – you can keep changing styles to suit your mood and home decor too.
Just like the table touch lamp, this chandelier is also available in gold and silver chandelier with pink and clear crystals.
You all know that I love reading your comments so let me know what you think of these items and if you're loving chandeliers and crystal lighting as much as me!
I'm also on the lookout for some statement table lamps and floor lamps too as I have more posts on the way – make sure you check back for all the latest!
Layla x