Aura By Swarovski Gift Set
[slide id="Slider_id"] [images src="https://sprinklesofstyle.co.uk/wp-content/uploads/2014/02/aurabyswarovski.jpg" title="image title" caption="Aura By Swarovski Gift Set" url="url"] [/slide]
Aura By Swarovski Gift Set –
£44.00

/ Items Bought Separately

£113.50

Valentines Day is fast approaching and I always love looking at brands and seeing what gift sets the put together – especially the limited edition ones!

Nothing really took my fancy so I didn't think I would be writing anything about gift sets until I spotted this little beauty you see pictured above.

Aura By Swarovski Gift Set – You can see how beautiful the set is from the picture above, it has such a luxurious look to it. The perfume has been described as a sweet scent captured in a Swarovski adorned perfume set – oh how gorgeous!
Aura By Swarovski Gift Set – Contents
So, what do you get in the kit?
Aura EDP 30ml 
100ml Body lotion
Crystal Gloss Makeup Jewel
Pouch
I love the fact Aura comes in EDP – Eau De Parfum.
Eau De Parfum is more expensive but it always lasts longer than Eau De Toilette so you need to use less which means it'll last longer – yay!  🙂
See Also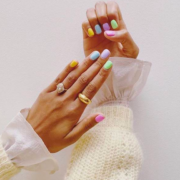 When will the set be available?
The Aura By Swarovski Gift Set will be available on the 6th February (My Birthday) 2014 meaning there's plenty of time to send out those hints or to get it as a gift to yourself 🙂
Let me know what you think of this lovely, luxurious gift set!
Does this sound like something you would like?
Let me know!
Layla xx